About Student Company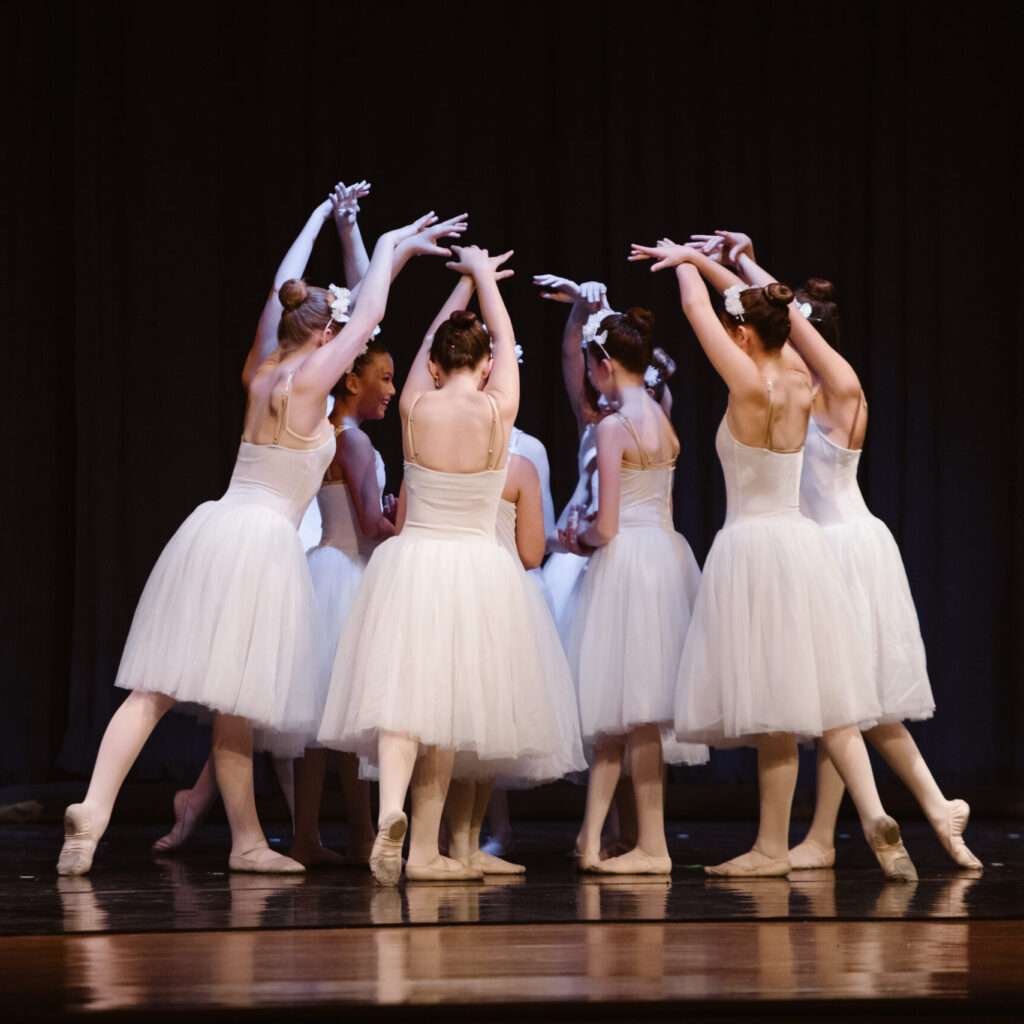 Students ages 8-18 who seek to expand their dance training beyond the classroom are invited to perform in our Student Company. Our Student Company performs four shows seasonally: a Charity Concert, a Spring Concert, lead roles in our Nutcracker, and a featured act in our annual Showcase. Participation in the Ballet 180 Student Company fosters individual growth, technical and artistic development, and strong friendships within our school community. Student Company members are able to work as a team with their fellow dancers to gain a holistic understanding of their art, a greater sense of confidence, and the tools to excel later in life, whether it be in dance or an alternate field of study.
Pink Company (Level 1 & 2)
Rehearsals on Saturdays from 11:30-12:30pm
Blue Company (Level 3 & 4)
Rehearsals on Saturdays from 12:00-1:30pm
ELITE Company
Private coaching with a Ballet 180 faculty member outside of normal Student Company rehearsal time to fine tune and clean performance-ready solos, duets, or trios. ELITE Student Company Membership is available to Student Company Members who want extra coaching and a spotlight role in our Spring Concert. Fall Semester: Six 45-minute bi-weekly private lessons from September 9 to December 2. Spring Semester: Six 45-minute bi-weekly private lessons from February 10 to April 20. To participate, please email .
---
Frequently Asked Questions
What are the benefits of Student Company membership?
Exposure to a variety of teaching artists and approaches to choreography
Invitation to serve as a teacher's assistant in classes at our school
Key roles in our Holiday Show
Featured spotlight in our Spring Showcase
Additional performance opportunities beyond the Holiday Show and Spring Showcase
Volunteer experience through our Community Engagement programming
Strengthened friendships within our school community
Could you describe the audition process? Does this mean some dancers will not be accepted into Student Company?
Anyone who registers for Student Company is automatically accepted. During the audition we will place dancers in junior or senior levels within the Student Company and we will cast demi-solo and solo roles in our Nutcracker Sweets performances. Dancers who plan to participate in the Ballet 180 Student Company must attend at least one week of our summer dance camp or intensive before they attend the Student Company Audition.
Are all performances mandatory? What if we have a scheduling conflict?
For the benefit of our dancers, we try to offer as many performance opportunities as possible. That said, we realize that attending all performances might not be feasible for every dancer. If a dancer is unable to attend a performance, we ask that parents inform us as soon as they are able so that we do not cast the dancer in that particular piece. We provide the rehearsal and performance schedule (to the best of our knowledge) at the start of the school year and again in January. This provides an opportunity for conflicts to be discussed well in advance of performance dates. While we hope for Student Company members to be available for all of the performances, there is plenty of material for students to learn during rehearsal time even if they are not participating in a specific show.
What class requirements does my child need to qualify for student company?
Student Company members are required to attend at least one week of summer dance intensive at Ballet 180 School in order to prepare for the upcoming season of dance. Class requirements for the school year are specific to the level of the dancer.
Level 1 – At least 1 ballet & 1 elective class per week
Level 2 – At least 2 Ballet & 1 elective class per week
Level 3 – At least 2 Ballet, 1 Pointe, 1 elective class per week
Level 4 – At least 3 Ballet, 2 Pointe, 1 elective class per week
Elective class options include tap, jazz, and contemporary.
Regular class attendance is an important factor for meeting the expected class requirements of Student Company, as it is the most reliable indicator of predicted growth for a dancer. Therefore, Student Company performance opportunities will be directly affected by a dancer's class attendance.
What is the cost?
Student Company participation is $300 for the school year. Payment is made as a single payment at the start of the dance season.
How to Join Our Student Company
Register for the Summer Dance Intensive
Register for the Student Company Placement Audition
Register as a Student Company member

You can register for the Student Company through your portal, just like you would do for regular classes. 

Attend the correct classes and rehearsals

Make sure you are registered for the minimum classes required per week based upon your level (see requirements above). Dancers are also expected to show a commitment to dance by regularly attending their classes and scheduled rehearsals.