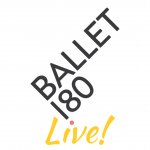 We are happy to be able to offer virtual dance classes during this time when we must remain in our homes.
Through Ballet180Live! we are able to continue providing mental stimulation, physical activity, and a sense of community for our students.
Please tag us with #Ballet180Live with any photos from dancing at home. It makes our hearts so happy to see our students dancing even if it's from afar.
---
Spirit Week (May 26-29)
This will be our final week of classes for the 2019/2020 school year, so we want it to be as fun as possible. Each day will have a different theme.
We are closed Monday, May 25 for Memorial Day, but we will have classes for all ages throughout the week. Take as many classes as you'd like.
To access Spirit Week classes, click on Spirit Week in your parent portal calendar at the start time of your class.
Our Summer Session begins June 1 with fun classes for the whole family! Register for summer HERE.
Tuesday, May 26
Costume Day! Wear Your favorite costume (dance, Halloween, or DIY) to class
12:00-12:45 ZOOM at NOON ballet barre fitness (ages 11+) w/ Lexi **NEW**
3:00-4:05 ballet 1 (ages 8-10) w/ Kari
4:15-5:25 ballet 2 (ages 10-12) w/ Kari
6:00-6:50 jazz 1 & 2 (ages 8-12) w/ Kari
7:00-7:50 teen jazz w/ Kari
Wednesday, May 27
Pajama Day! Wear your favorite PJs to class
3:00-3:25 elementary tap/jazz (ages 5-8) w/ Kari
3:30-3:55 tap 1 & 2 (ages 8-12) w/Kari
4:00-4:50 contemporary 1 & 2 (ages 8-12) w/ Kari
5:00-5:50 teen contemporary w/ Kari
6:00-6:45 Improvisation/choreography (ages 8-18) w/ Lexi **NEW**
Thursday, May 28
Beach Day! Mermaids, Pirates, Suits & Sunglasses welcome
11:00-11:45 pre-dance (ages 2-5) w/ Kari **NEW**
12:00-12:45 ZOOM at NOON dance fitness (ages 5-10) w/ Kari **NEW**
3:00-3:25 pre-dance (ages 2-5) w/ Roberta
4:00-5:00 teen adult ballet w/ Brittani
5:00-5:35 pointe w/ Brittani
5:45-6:30 ballet (ages 5-8) w/ Kelly
6:35-7:00 elementary contemporary (ages 5-8) w/ Kelly
Friday, May 29
Family Fun Day! Calling all family members…join us in learning a fun dance routine for all ages
6:00-7:00 dance party! (family friendly) w/ Lexi **NEW**
---
Tips for Dancing from Home
Find a space that allows you to move without bumping into anything. Ideally you should be able to see your feet and your head in the video camera so that the teacher can provide corrections.
For TV's with a streaming device like AppleTV, Firestick or Roku – AIRPLAY the video from your device to your TV. On your device go to Settings > General >AIRPLAY on. On your TV after you power up your streaming device, Go to SETTINGS > AIRPLAY on. Return to your video and tap on the Airplay icon!
Dress Appropriately:

Ballet – Wear socks or ballet slippers; find a chair or counter that could act as a barre.
Tap – Be aware of the floor surface. Do not dance on concrete, but protect your floor by putting socks over your tap shoes or wearing sneakers instead of tap shoes.
Jazz – Sneakers may work best depending on the floor surface.
Contemporary – Wearing socks is recommended.
---
How to Access Your Class on Zoom
Download the free Zoom app on your phone or computer. Login to your Parent Portal at least 10 minutes before class. Find your class under the Calendar section of your parent portal. You can then click on the class to see the video camera icon and click the camera to connect to the LIVE class through Zoom.